Ensemble KAI
from the booklet of BIS CD with some corrections
---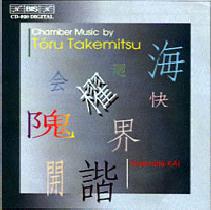 Takeshi Takezawa was born in Kyoto in 1963 and studied the violin with his father from the age of five. He continued his studies in Tokyo, winning the Tokyo Radio Prize in 1985 prior to entering Paris Conservatory. He has been a leader of Philharmonie de Lorraine in Metz since 1991 as well as giving regular recitals in France and Japan.
Ethica Ogawa was born in Nagoya where she started studying the violin at the age of five. She studied at Toho Gakuen Music School in Tokyo and was then awarded a scholarship by the French government to study in France. She was a prizewinner at International Viotti Competition in 1990 and since 1991 has been a co-principal of Strasbourg Philharmonic Orchestra, playing also as a member of Strasbourg String Sextet. She is a real Japanese named after Benedictus de Spinoza book "ETHICA" by her father, a professor.

more articles on Ethica Ogawa in chronological order (photo album)
1 - Shukan Gendai Magazine in April, 1997
2 - Fnac brochure in September, 1997
3 - L'ALSACE paper in December, 1997
4 - YAMAHA Studio in Paris by A.SEKIHARA(c)
5 - Pamphlet of Nerima Bunka Center in October, 1998
6 - DIAPASON fevrier 1999
7 - Record Geijutsu June 1999
8 - Gallery Concert in Ohara Museum of Art, January, 2001
9 - Pamphlet of Kitara concert hall, Sapporo in January, 2001
10 - CD-R(Ethica Label) not for sale manufactured by herself, 2001
11 - Pamphlet of Kokusai Ongakusai in February, 2003

Hiroto Tobisawa was born in 1968 at Kanagawa where he commenced his study of the violin at the age of six. He graduated from Toho Gakuen Music School in Tokyo and then awarded a Japanese grant for study in France. After graduating from Ecole Normale de Musique de Paris he was appointed a co-principal viola of Orchestre National des Pays de la Loire in April 1997.

Atsushi Sakai was born in Nagoya in 1975. He started to play cello at the age of five before the family moved to the USA where he continued his musical education. He played with Berlin Symphony Orchestra in 1987 and has given regular recitals in Japan and the USA since 1988. In 1994 he completed his studies in Los Angels and moved to France where he entered Paris Conservatory. He was unanimously awarded first prize there in June 1997.

Hideki Nagano started studying the piano at the age of five, winning a national prize for students and graduating from University of Fine Arts in Tokyo. In 1988 he entered Paris Conservatory where he studied both piano and accompaniment to voice. He won numerous prizes at international competitions including those in Barcelona(1990), Montreal(1992) and Orleans(1994), was awarded the 8th Japanese Idemitsu Prize in 1998. Since 1996 he has been a member of Ensemble InterContemporain.