---
You are the

th visitor since June15. 1996.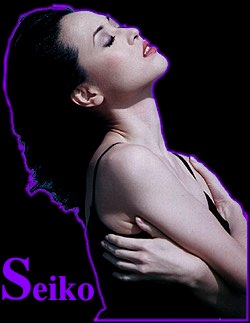 Basic Information of Seiko


Seiko is Japan's princess of Pop. Seiko, 50 and a mom, is idolized by several millions of adoring fans in Japan, with 15 No.1 albums and 25 consecutive No.1 songs in Japan to her credit. Almost Japanese people know her very well, like Barbra Streisant in U.S.. Surprisingly, over 220 books on her and over 5,000 magazines reported her have been published in Japan since she made her debut in 1980. And more, the her sales amounted to 1 billion dollars (100,000,000,000 Yen) in 16 years. Yes! She is the No.1 popular star in Japan.
She's strongly hoping for more conquests with her 3rd U.S. release Single( A&M Records ) in Dec 96. She had already released two U.S released albums(1990,1996) and a duet song with Donnie Walhlberg of New Kids on the Block in May 90. If you'd like to know her, then you must see this home page. You'll know the great world and love her more and more.
We are a group of fan. We provide 25 pages for you. Next is the INDEX.
Please Select your favorite Language ! Come on ! Join us.
---
[Japanese Text Guidance] Sorry! To read next sentences, you need Japanese font.
●松田聖子事務所及び松田聖子と、このサイトとは関係が有りませんので、当ホームページ以外の松田聖子に関する情報につきましては、こちらでは責任を負いかねます。また、その件につきましてのお問い合わせはご遠慮ください.
●当ホームページへのリンクは、このトップページ<A HREF="http://www2a.biglobe.ne.jp/~seikofan/">SEIKOFAN.COM</A>でお願い致します.(リンク許諾メールは不要です)
---
Last Updated. Oct.29th at 05:50 '2010, JST +0900
Please use Netscape2.0up or IE3.0up
◎Seiko Fan Web Site : Site Open since June.15th 1996
◎This Unofficial Fan web devotes to the most popular Japanese singer, Seiko.
◎Webmaster E-mail:
1991-@Seiko Fan's Online Network ; SEIEIKAI, SINCE Apr 29th 1991

---